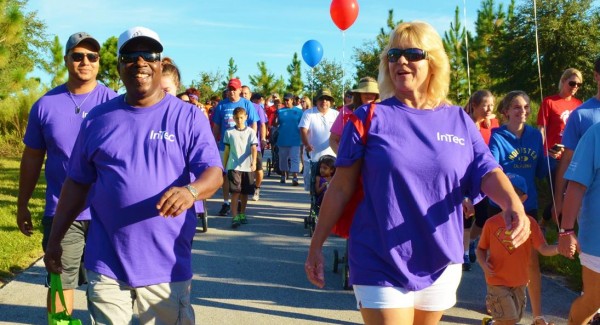 Base3 scores big pledges at Heart Walk
One team. One mission. One community…read the purple t-shirts worn by the Base3 Facility Automation walkers during the Marion County American Heart Association Heart Walk. Their goal? To generate donations to be used for cardiac research and education initiatives, eventually wiping out heart-related ailments.
Employees representing Base3 Facility Automation were all first-time walkers. A sign placed along the 3-mile route by event officials recognized Base3 as a "Super Team" because they raised over $3,800 and were among the top teams.
"This shows the power of one," said Heart Walk Event Coordinator Staci McDonough. "It just takes the enthusiasm of a single individual to encourage others to support local causes and activities. In this case, it started with a single employee and grew from there."
This year was the largest Heart Walk event in Marion County history. A total 4500 individuals from 66 companies and organizations joined forces to walk the designated three miles of trails in support of heart health.
Heart Walk is part of a nationwide campaign undertaken by the American Heart Association (AHA) to improve heart health through education and physical activity. Their research indicates that less than one percent of the current US population meets the criteria for ideal cardiovascular health. Studies further reveal that heart disease is the number one killer of all Americans, surpassing all forms of cancer combined.
So how are they going to top this years pledges?   "I'm competitive," said Administrative Assistant Jayme Head. "It was the most fun three miles I've ever walked. I'm getting all my friends together for 2014. We're really going to put it in gear then."
(PICTURED – Designated by Heart Walk officials as a "Super Team," Base3 Facility Automation employees Charles Banks and Jayme Head join the heart-healthy fun)
###